Experience slot heaven when you play
Bitcasino slots
If you're searching for a thrilling and rewarding slot experience, look no further! At Bitcasino, you'll discover a wide selection of Bitcoin slots that will take your gaming adventure to new heights.
Whether you're a fan of traditional fruit machines or prefer the adrenaline rush of video slots, we have something to satisfy your winning cravings. Join us at Bitcasino and embark on a journey filled with endless fun and big wins.
Aiko
Our vast collection of slots ranges from classic favourites to the industry's most innovative and cutting-edge slots.


Sakura
With each spin, you'll be immersed in a world of slot machines boasting exhilarating features designed to keep you entertained.
Get to know more about what Bitcasino offers and our wide range of slot games you can enjoy when you continue reading below.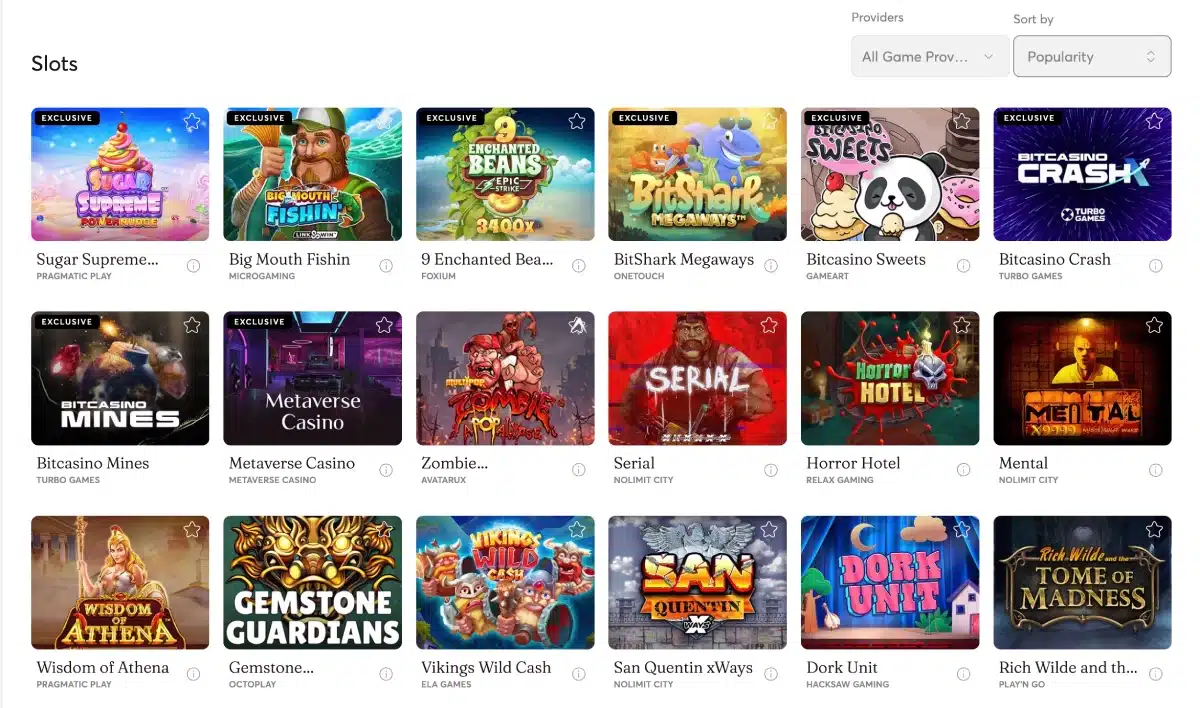 Online casino slot features and types
Online casino slots offer a thrilling and diverse gaming experience thanks to their impressive features and types. These slots go beyond the traditional spinning reels, offering exciting elements that enhance your gameplay and chances of winning.
Aiko
Get ready to explore a world of innovation and endless possibilities with various online casino slot features and types you can find here at Bitcasino!

Classic Slots
Classic slots, also known as traditional or fruit slots, are inspired by the original mechanical slot machines you can find in brick-and-mortar casinos. These typically feature three reels and a few paylines. They often incorporate classic symbols such as fruits, bars, bells, and lucky sevens. 
Here's an example of a classic slot game you can try at Bitcasino:
777 Strike by Red Tiger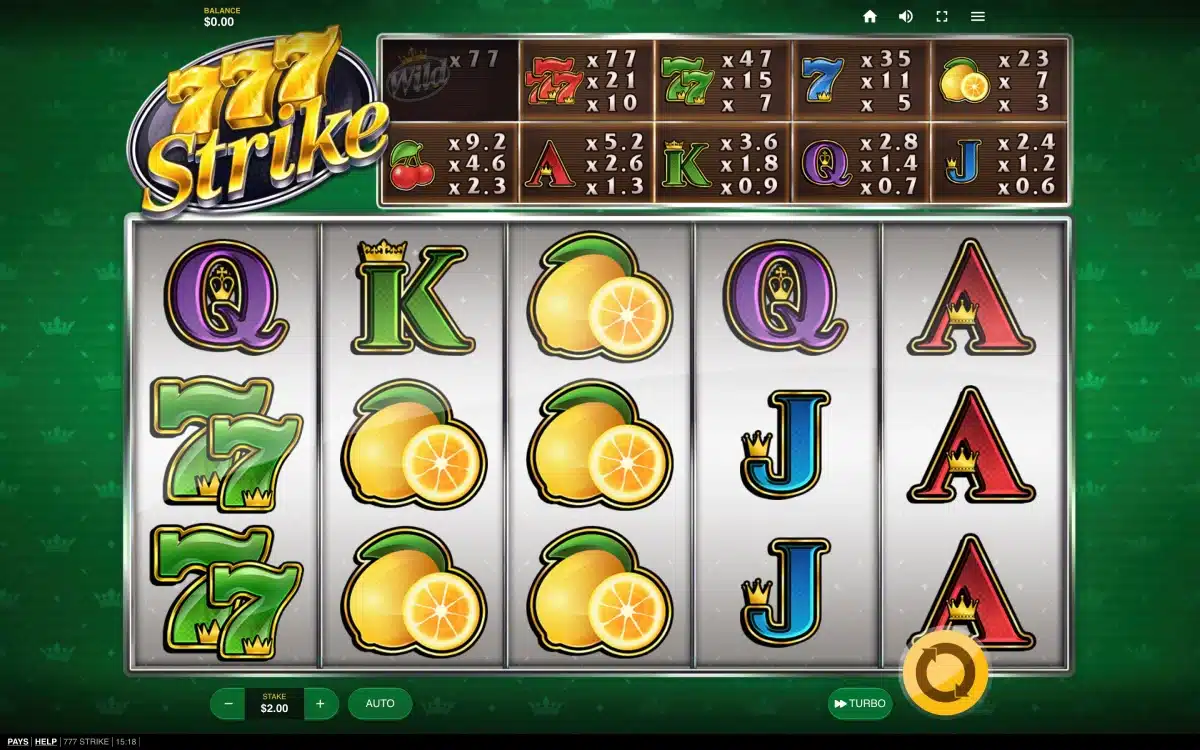 777 Strike, developed by Red Tiger, takes you on a wistful journey to the classic era of slot gaming, where fruit symbols, lucky sevens, and a touch of old-school charm reign supreme. This arcade-themed slot brings a sense of '7th heaven' as Red Tiger skilfully captures the essence of traditional slots.
Embracing its arcade theme, 777 Strike features a 5-reel, 3-row grid adorned with white-backed tiles reminiscent of vintage gambling machines. Above the grid, a mini table displays the symbols and their corresponding values, creating an authentic casino atmosphere.
Video Slots
Video slots are the modern iteration of slot machines, characterised by their immersive graphics, engaging themes, and interactive gameplay. These slots feature five or more reels and a larger number of paylines compared to the classic ones, offering you more opportunities to win.
This type often includes captivating animations, high-quality visuals, and a wide range of themes, from adventure and fantasy to movies and mythology. They also showcase various bonus features like Free Spins and Multipliers, as well as Wild and Scatter symbols, boosting the fun and your winning potential.
Here's an example of a video slot game you can play at Bitcasino:
Lucky Koi by Microgaming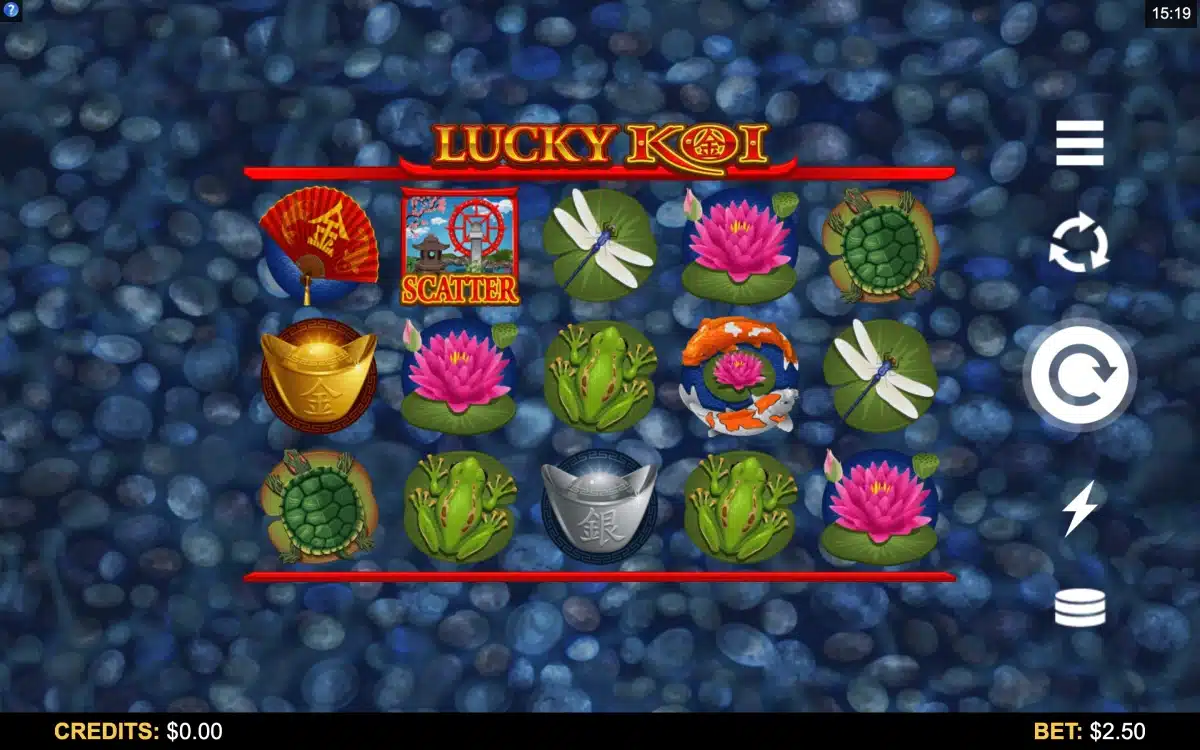 Lucky Koi is an engaging video slot by Microgaming that will transport you to a captivating Japanese-themed adventure. With its vibrant visuals and immersive gameplay, this game brings the essence of luck and fortune to the reels. 
Lucky Koi has special symbols, which are the Scatters and Wilds. By landing the right combinations, you can unlock up to 30 free spins alongside a multiplier, increasing your chances of taking home huge payouts. The game also features a bonus round where you can fish for koi in a pond and get additional rewards.
Progressive Slots
Progressive slots are a type of slot game that offers a massive, ever-increasing jackpot. A small portion of each player's wager contributes to the progressive jackpot, which continues to grow until it is won. The jackpots can reach staggering amounts, often increasing up to millions.
These types of slots can either be classic or video slots. The only main difference is the ever-changing jackpots. However, remember that the odds of hitting the progressive jackpot are typically lower than regular slot payouts.
Here's an example of a progressive slot game you can play at Bitcasino:
Mega Moolah by Microgaming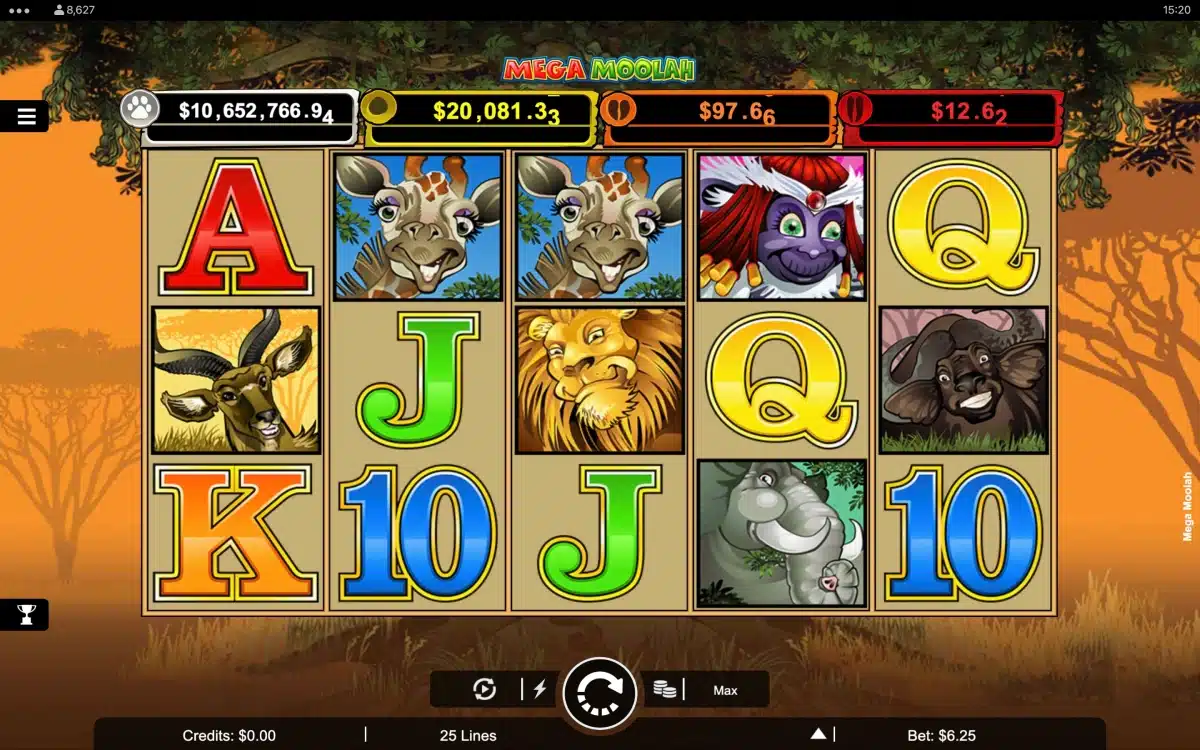 Mega Moolah, developed by Microgaming, is a highly acclaimed progressive slot game that has gained significant popularity among online slot enthusiasts. With its African safari theme, the game takes you on an adventure through the wild plains, offering you the chance to win massive jackpots.
One of the key highlights of Mega Moolah is its incorporation of four different progressive jackpots, which are known for their substantial payouts. This feature has contributed to the game's reputation as one of the most notable slots from Microgaming. Over the years, Mega Moolah has produced numerous big winners, adding to its enduring appeal.
3D Slots
3D slots are visually stunning games that feature three-dimensional graphics and animations. These slots provide a highly immersive and cinematic experience, with realistic characters, intricate storylines, and impressive visual effects. 
Online casino slots with 3D features combine the aspects of video slots with state-of-the-art technology to deliver an engaging and visually appealing gaming experience. Like video slots, they feature various exciting bonus games and interactive elements to make it more immersive.
Ninja VS Samurai by PG Soft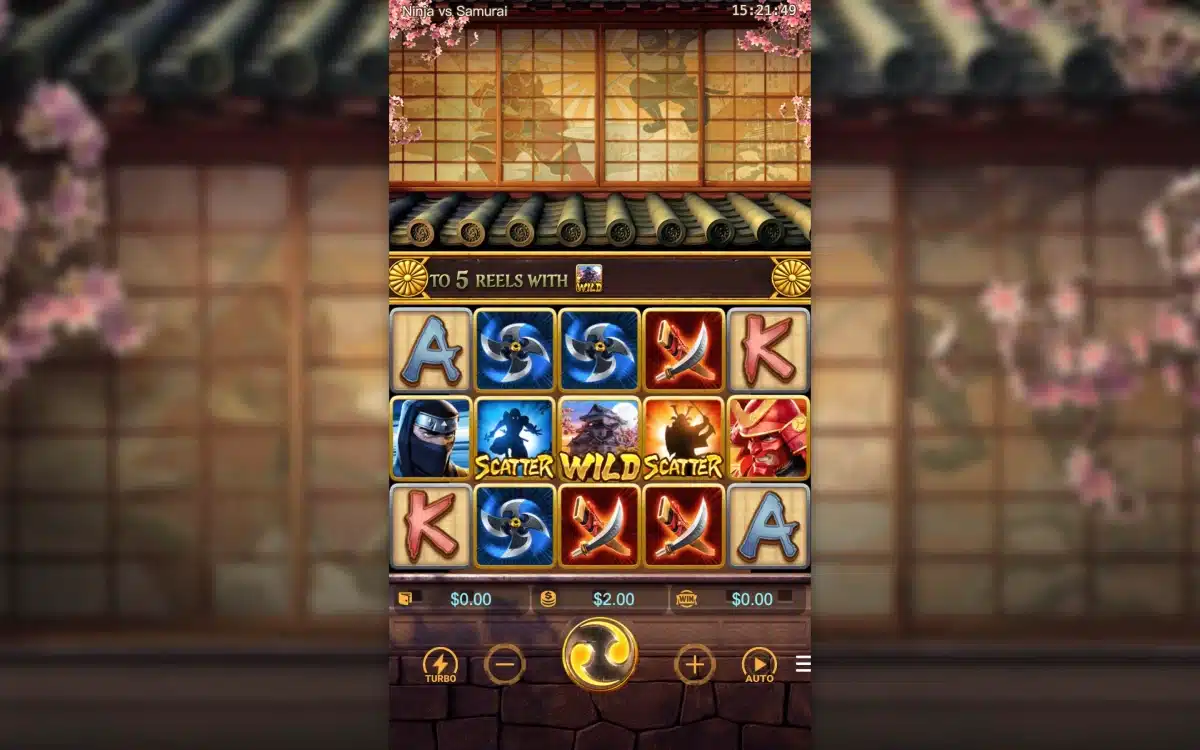 Ninja VS Samurai is an exhilarating 3D slot game by PG Soft that guarantees action-packed gameplay. Set against a backdrop of a Minka with beautiful cherry blossoms, this slot immerses you in a captivating Japanese setting.
What sets Ninja VS Samurai apart is its stunning 3D graphics and interactive gameplay. As you play the game, the battle scenes come to life, keeping you engaged and on your toes throughout your gameplay.
In addition to its impressive visuals, Ninja VS Samurai offers a range of exciting features. You can unlock nine free spins and land multipliers, Wild symbols, and Scatter symbols. With an impressive RTP of 97.44%, you have a higher chance of winning as they enter the thrilling battle between the ninja and the samurai.
Aspects of Online Slots
To further understand online slots, we'll discuss their various aspects to give you a general overview of what you can expect when you begin playing. 

Akiro

Amazing! There's more to slots than just placing your bets and spinning the reels.
Aiko
Here's a detailed explanation to know more about slot games:

Popularity
The popularity of an online slot can be determined by many factors, not to mention its popularity from brick-and-mortar casinos. These factors include the online casino platform's reputable title in the industry, player's reviews, ratings, and overall gameplay engagement.
Popular slots tend to have a large player base and are often well-regarded for their entertaining gameplay, immersive themes, rewarding features, and, most especially, for their convenience for playing on the go.
Many online slots offer innovative bonus rounds, stunning graphics, and unique mechanics that captivate players worldwide. This popularity is an indicator that casino slots have resonated with a wide audience and are worth exploring.
Regular dividend
The regular dividend, also known as the RTP, represents the percentage of wagered money that a slot machine is expected to pay back to players over time.
For instance, if your chosen slot game has an RTP of 96%, it means that, on average, you can expect to receive US$96 for every US$100 wagered.
Slots with higher regular dividends generally offer better long-term payout potential. It's important to note that the regular dividend is calculated over a vast number of spins and does not guarantee individual outcomes.
Strength of free spins
The strength of free spins in an online slot refers to the potential for significant wins or additional features during the Free Spins bonus round.
Strong free spins often include extra features like increased multipliers, expanding Wilds, or additional free spins. These enhancements can boost winnings and make the free spin rounds more fun.
Easy to win
Slot games are an easy-to-win type of casino game you can play at home. Its straightforward mechanics and a higher likelihood of producing frequent wins make it favourable to many players compared to other online casino games that require skill and strategy. 
Slots are generally more accessible and easy to play for both new players and high rollers to achieve wins. The reason for this is online slots primarily rely on luck and random number generators (RNGs) to determine outcomes without the need for complex decision-making or deep knowledge of game rules. 
The simplicity of spinning the reels and relying on chance appeals to many players, making slots an attractive option for those seeking entertainment and potential winnings without extensive skill requirements.
How to play casino slots and the flow of gameplay
Now that you have a deeper understanding of slot games, look at how to play them to get started in your slot gaming journey.

Sakura
Read the step-by-step process below to easily grasp how slot games are played. 

1. Inject cash into the slot machine
Aiko
In brick-and-mortar casinos, this involves physically inserting bills or coins into the machine.


Sakura
In online casinos, you would typically deposit funds into your betting account using various payment methods available.
Aiko
At Bitcasino, you can deposit funds into your account using fiat currency or your preferred cryptocurrency like Bitcoin.

2. Set the amount per line
Once you already have credits or funds in your Bitcasino account, you need to set the amount you want to wager per line.
Aiko
This determines how much you want to bet on each payline of the game.


Sakura
You can adjust this amount using the controls provided on the slot interface.
Setting higher bets per line can potentially lead to larger payouts, but you must keep in mind that it also carries a higher risk since landing winning combinations is not guaranteed.
3. Set the number of lines
Most slot machines allow you to select the number of paylines you want to play. Paylines are the lines that can result in winning combinations. You can often choose to play a specific number of lines or opt for the maximum number of lines available.
Aiko
The more paylines you activate, the higher your chances of landing winning combinations!


4. Slot rotation (PLAY button)
Once you have set your bet per line and the number of lines, you can initiate the slot rotation by clicking the 'PLAY' button. This action sets the reels in motion, which will come to a stop and reveal a combination of either low or high-paying symbols.
5. Increase/decrease in credits
As you play, you can monitor your credits or balance, representing the funds you have for betting. Winning combinations can increase your credits, while unsuccessful spins decrease them. Some slot machines may also offer features like the Gamble option, where you can increase your winnings through mini-games or double-up features. 
6. When to quit the game
If you think you have enough, you can stop playing anytime. This is important as this limits your game time, allowing you to manage your bankroll. Make sure to set a limit and avoid chasing losses, as this will only further affect your bankroll.
Online slots rely on a (Random Number Generator) RNG when it comes to the results, and each spin is independent of previous outcomes. Quitting at a strategic point can help you maintain control over your gameplay.

Akiro

I will keep this in mind and apply it to my gameplay!
Recommended Online Slot Casino games at Bitcasino

Akiro

I'm excited to spin the reels of Bitcasino slots!

Sakura
It's a good thing that Bitcasino offers a wide range of slots. Now, I can choose any game that will suit my preferences.
Get started on your slot gaming journey when you select from a roster of Japanese-themed games from various game providers at Bitcasino. Here are some games you can try:
Shogun of Time by JFTW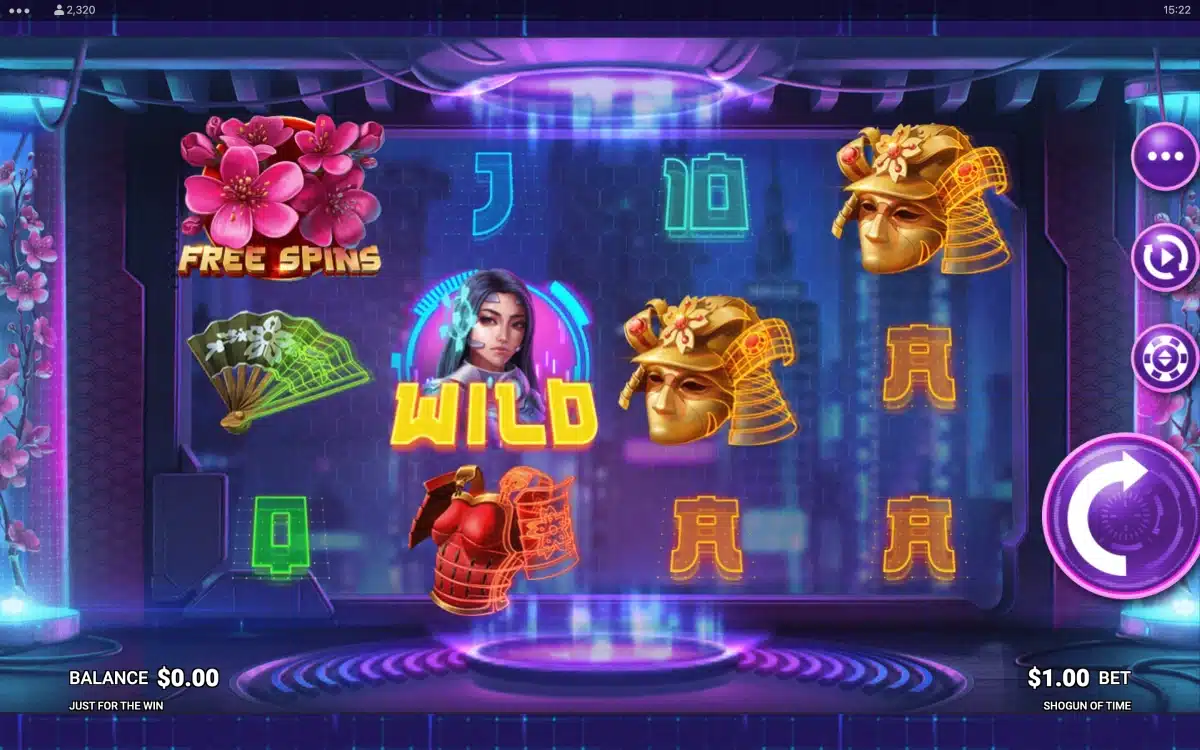 Discover the cyber world of Shogun of Time by JFTW, a thrilling Japanese slot game with 4x3 reels and 243 paylines. You can set the autoplay feature for up to 100 spins, allowing you to sit back and enjoy the game while waiting to hit the winning combinations. An impressive bonus round can also be triggered here, activating up to 16 free spins to give you more chances of winning.
Koi Princess by NetEnt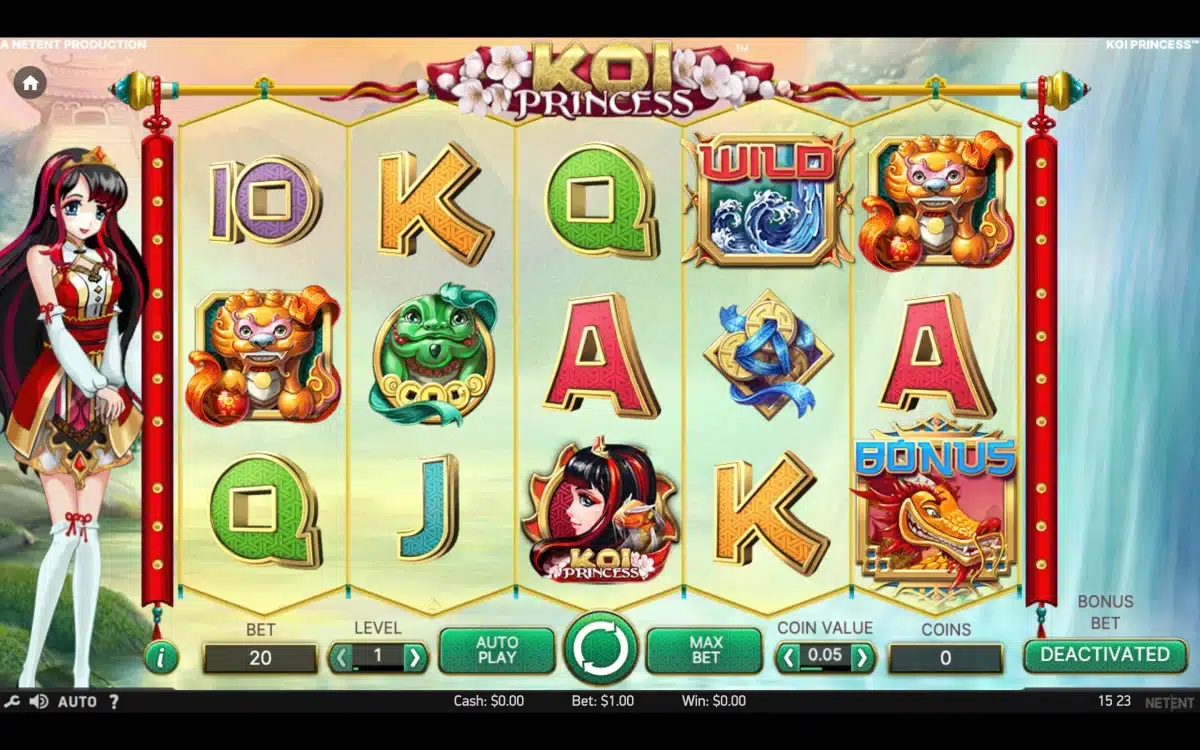 Embark on a delightful adventure with Koi Princess, a slot game developed by NetEnt. Watch as the charming princess stands by the spinning reels, eagerly awaiting the winning combinations to reward you with big payouts.
This manga-style slot introduces exciting features such as up to a 5x multiplier and 10 sure-win free spins. With four bonus features and a bonus bet option, the maximum win is 500x your bet. 
Matsuri by Play'n GO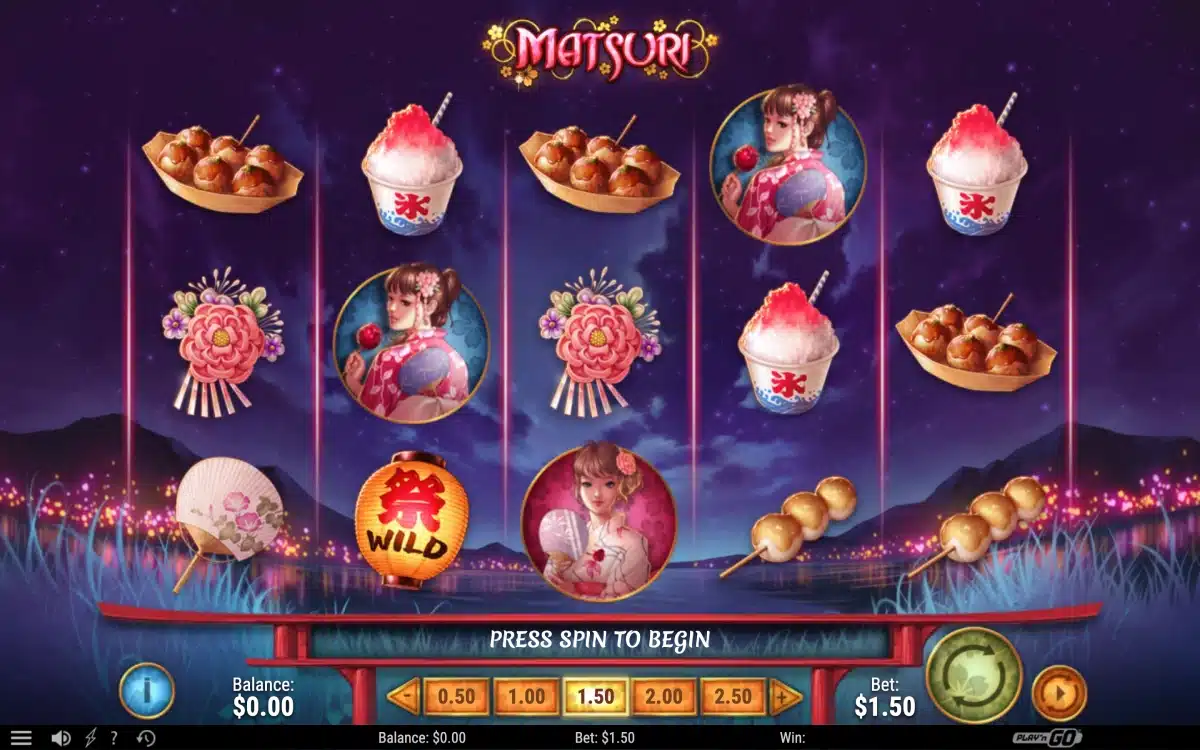 Experience enchanting moments when you play Matsuri by Play'n GO. Let the deities bless you with good fortune as you get immersed in the vibrant festival night. Enjoy up to 25 free spins, multipliers, and a captivating bonus game as you keep on spinning the reels. With a 94.15% RTP, you have the chance to win prizes of up to 3,000x your total bet. 
Sakura Fortune by Quickspin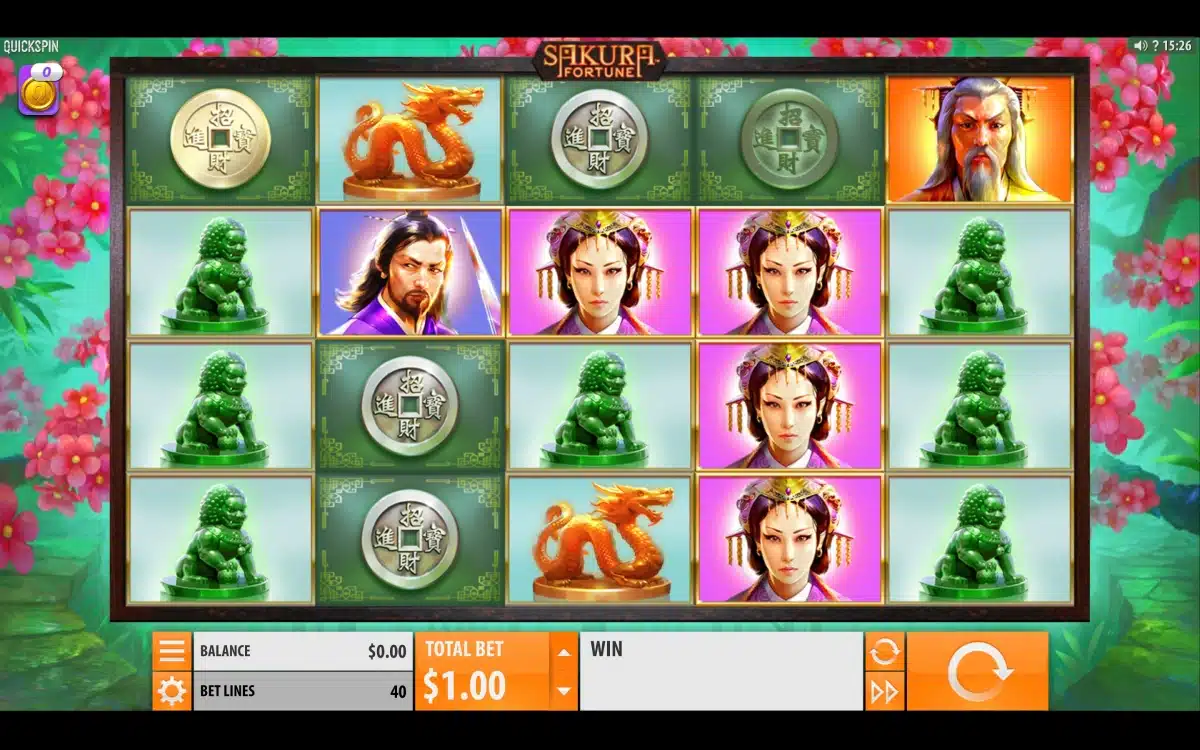 Step into a world of grace and prosperity in Sakura Fortune by Quickspin, where rewards thrive beneath the gentle Sakura tree. Be immersed in its smooth graphics and watch in awe as the screen comes alive with the fierce lady samurai. Witness her slashing her way through the reels, showering you with extra free spins amidst a rain of Sakura petals. 
With the potential to win up to 1,023x your bet at a 96.58% RTP, Sakura Fortune promises a journey where fortune blooms beneath the Sakura tree.
Ninja Fruits by Play'n GO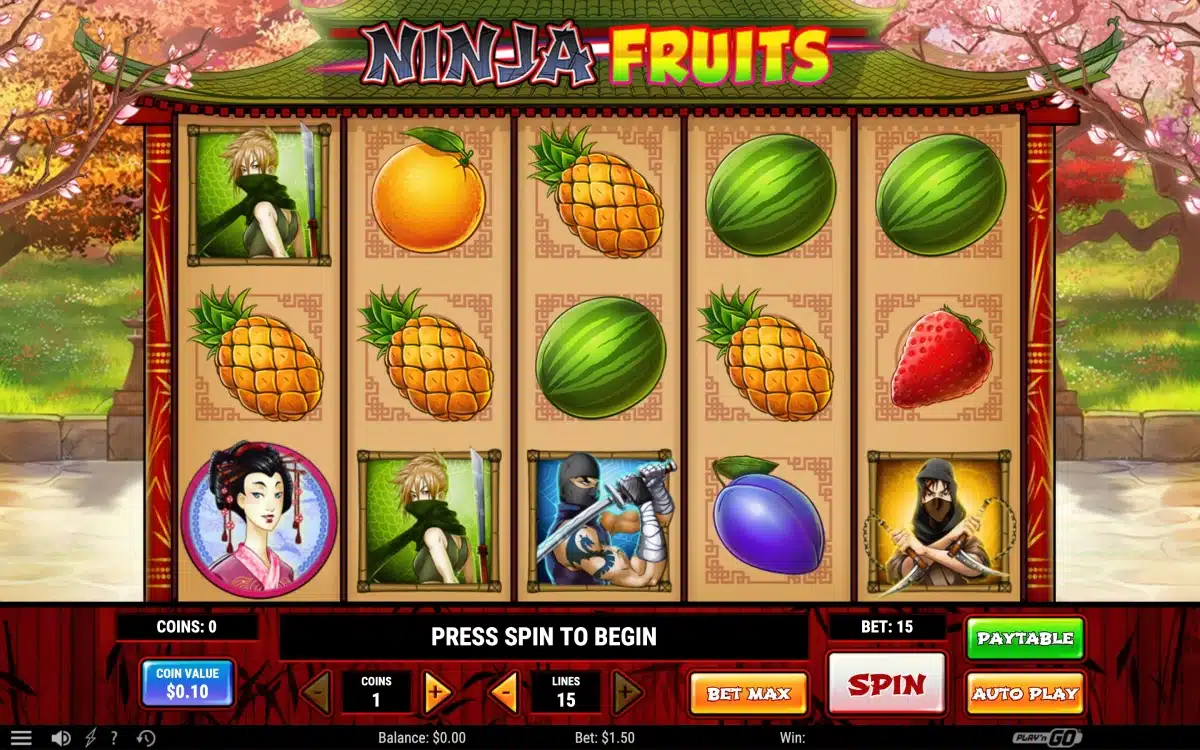 Prepare to unleash your inner ninja in Ninja Fruits by Play'n GO. Ninja Fruits slot features Wilds and Scatters in the form of the graceful Geisha, the revered Old Man, and the deadly shuriken. These symbols have the power to enhance your wins, trigger free spins, and transport you to the thrilling bonus round. 
With a high RTP of 96.47%, Ninja Fruits stands as one of the slot games that promises non-stop entertainment from the first spin to the last.
Enter the exciting world of slot games at Bitcasino
With the wide array of generous online casino slots at Bitcasino, you'll have endless opportunities to spin the reels and win rewarding prizes. With big payouts waiting in every spin, you can enjoy various themes and types available on the platform.
Whether you're a fan of adventure, fantasy, or classic fruit machines, we have everything you need. Don't miss out on diving into the thrilling world of Bitcasino slots. Deposit on your account, choose your game, and see how the reels align to bring you those big wins!
Frequently Asked Questions (FAQs)

Akiro

Which winning slots do you recommend?
Aiko
There are tons of great slots at Bitcasino. But some popular recommendations include Sakura Fortune and Ninja Fruits. These are known for their exciting gameplay, captivating themes, and rewarding payouts.


Akiro

Which online casino slot usually has a strong spin?

Sakura
Slots with strong spins are those with high volatility ratings, such as Shogun of Time and Matsuri. These slots tend to offer significant wins, although they may occur less frequently.

Akiro

How do I choose which slot machine to play?
Aiko
When selecting a slot machine, you have to consider factors such as the theme, gameplay features, RTP percentage, best volatility, and your other personal preferences.


Sakura
Reading reviews and trying out demo versions can also help you make an informed decision about which slots suit you best before playing with real money.